So I finally found the time to venture to the most Germany part of Germany, that misty series of hills, valleys and trees known around the world as the Black Forest (or the Schwarzwald in Deutsch!)
With witches towers, Grimm fairy tales, "Hell Valleys" and the ominous name of the Black Forest itself, it's easy to think of this sprawling section of Southern Germany as a place of evil, of hauntings and werewolves. In reality though, the Black Forest is a paradise for the adventurous, full of hidden worlds, amazing views and long, winding walkways.
Of course, you can't define the Black Forest with one aspect, as it covers such a large area of the country. The heavily wooded and wild hills around Freiburg are completely different to the lakes at Titisee, the steep cliffs along the Höllentalbahn or the more gradual and lonely trails around Hinterzarten. And this is all within a 30km radius.
On Wednesday I took a relatively short train trip on the big, white, metal millipede that is a Deutsche Bahn ICE train to Freiburg im Breisgrau, the door to the Schwarzwald.
---
The Sunniest City in Germany
Looking at Freiburg today it would be hard to tell it was bombed to hell in World War II. The "Sunniest City in Germany" enjoys wine growing temperatures, status as a European travel hub and unparalleled access to the Black Forest.
At 8am, I was lucky enough to watch the sun rise over the rolling hills leading up to the city. With Autumnal colours already on full display, I quickly came to realise that my stay here would definitely be a beautiful one.
With nothing open yet in the main city, I decided to take a quiet stroll around the Aldstadt, getting a great and uncrowded view of the Münster (the ridiculously huge cathedral in the centre of town), a couple of beautifully ornate gate towers and the old merchant's hall. Everything in Freiburg's Old Town is built as if it were a movie set for some romantic Hollywood shite involving a troubled author and a manic pixie German dream girl. It was beautiful.
After a quick bite to eat, I began to ascend the Schlossburg, the closest hill to the Aldstadt. Even though the entrance to this forest world is very developed, used mostly as a running track and lookout it seems, I was still blown away by the beauty. Everything was golden thanks to fallen leaves, and the views of the misty mountains next door were simply indescribable.
After hiking for about half an hour and up a flight of 300 steps, I reached the non-operational Schlossburgturm. After taking a few selfies to prove I'd made it up the hill, I ventured forward down a rather Dark Soulsian path that lead to some foggy mystery yet to be discovered. As I moved further and further from Freiburg, everything got wilder and woolier. Trees packed closer together, clouds whirled around me, paths diverged every which way and unknowable beasties rummaged around in the undergrowth. Even though I wasn't very far from a major city, alone and unguarded in that place, I felt like a proper fantasy adventurer… And realised how much of a nerd for this sort of stuff I am.
After spending an hour or two (I completely lost track of time) just admiring nature, I strolled back down to Freiburg's centre. There I entered the Münster, a "Gothic Masterwork" that really did seem to live up to its reputation. The name in German (of course, just meaning "Minster") conjures up images of monsters, and that is exactly what this building was: A huge and almost ungainly monument built from dark bricks and sharp spires. I climbed up even more steps (don't even get me started on the leg workout I got on that day) to reach the bell tower. I proceeded to look down and then get weak at the knees. How the hell did they ever build this thing? And how did they put so much detail into the spires? I'm sure they didn't have very effective safety gear back then.
Other highlights of Freiburg are… well, I can't really think of many. The Aldstadt and surrounding areas are amazing, of course, but really there's not much to do in this city apart from walk around, take pictures of pretty buildings, and eat a cake or two. When I arrived back after sundown in order to catch my train home I suddenly found I had nothing to do. I ended up in some high-up, freezing beer garden, drinking a cold one and looking over the city. It was really nice, totally serene and entrancing to hear the bells chime every hour and watch the mountains slowly disappear, but it was also a bit lonely sitting up there with only a book to keep me company.
Oh well, I think we definitely all need a bit of quiet time now and then, and I needed the time to think, for sure.
---
Hell Valley Railway
Probably the most metal sounding trip ever, right?
From Freiburg, I travelled this famous railway, through winding tunnels and sheer rocky cliffs, to Hinterzarten, another town nestled within the Forest. The trip itself, which goes over a famous aqueduct bridge called "Ravenna" and climbs 800m above sea level in half an hour, was worth the time and small charge. If it wasn't for a rather creepy stranger sit across from me in the train this trip would have been my favourite voyage of exchange so far… hell, even then it probably was.
Hinterzarten itself is even quieter than Freiburg. It is a tiny town surrounded by rolling green hills and the dark green fur of the evergreen forest. On arrival, I realised this was probably the most "Germany" town I'd visited yet, and I knew that trying to engage anyone in English would be a little more difficult than in the bigger centres.
I decided to follow a rather simple, but long and winding hiking trail from Hinterzarten, out near Titisee (though I unfortunately never saw the lake) and then back home. While the start of the hike was made up of the steep and wooded hill-climbs that I love, the rest of it was a largely flat, open walk through artificially cleared woodland. Sure, it was still a wonderful walk and a great way to clear the head, but it just didn't feel as wild as the other places I visited.
After an hour of walking I suddenly realised where I was. In the middle of a forest near a small German town, across the breadth of the world from where I was born. I was frozen in this realisation for a while, before suddenly switching gear and thinking "Shit… Are there bears in Germany? Am I done for? Who can rescue me if I'm attacked by a panther or a witch."
Despite the sudden influx of fear, I powered on, following the homely yellow signs that marked my chosen track. I eventually reached an open, green field, looking over the rest of the forest, smoking chimneys and crude log constructions. Continuing on from there, things got a little more my style, with steeper cliffs cradling the path, and wiry trees hanging over it. All around where quaint and very German houses, but also a certain pervading dread. This was the Black Forest after all. Who knows what horrors lurk within!
Needless to say, my worries were unfounded. Though I was happy to escape the 8-10km walk I was also happy that I'd gotten through it. Worry-wort James from back home would have taken the shorter, easier route. But not Euro-James, oh no. Euro-James loves a spooky challenge.
---
Varekai
My adventures in the forest didn't end in the Black one this week. Last night I went out with a friend to see Varekai, Cirque du Soleil's woodland themed show which was being performed at Mannheim's SAP Arena.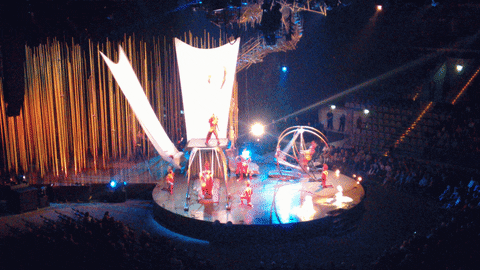 And wow. I've never seen a Cirque show before, pretty much because the cost for a ticket in Australia is rather off-putting, but I'm really glad I forked out for this show. I've lived my entire adult life as a lover of performing arts, but I can safely say I've never seen anything quite like it. The entire cast and crew are like gods of the stage, or angels, or devils, whichever they are playing the part of on the night. With death-defying areal acrobatics, some crazy swing action, hilarious physical comedy and near-witchcraft special effects, Varekai blows any other acrobatic/circus event I've ever attended out the water.
I'm not going to write up a whole review like I would back home (check out the arts website Glam Adelaide, by the way!) but I will heartily recommend the show to anyone in the area.
---
Unreality
So what can I say about this last week leading up to Halloween? Well, I've discovered magic again. Even if I've been transported away from my home and loved ones, I've found a new one within arms reach of one of the world's greatest natural monuments. I've been given a new lease on life, for a few months at least, to soak in and experience the nature as I have never done before, to feel the magic that comes from thousands of years of human history, conflict and imagination and to live as an independent adventurer. This last week has reignited in me a passion for the unbelievable and the incredible. In all, it's reminded me that there is more wonder in the world than we give it credit for.